Shopping Cart
Your Cart is Empty
Thank you for your business!
You should be receiving an order confirmation from Paypal shortly.
Exit Shopping Cart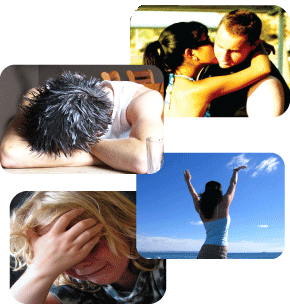 Individual/ Couples/Family Psychotherapy
Psychotherapy is the process of treating psychological disorders and mental distress. A trained and licensed clinician helps the client understand and manage a particular psychological disorder or life stress. The therapist may use a wide range of techniques and strategies. Psychotherapy involves developing a therapeutic relationship, communicating and creating a dialogue and working to overcome problematic thoughts or behaviors.
Because clients frequently discuss issues that are highly personal and sensitive in nature, psychotherapists have a legal obligation to protect a client's right to confidentiality. However, one instance where psychotherapists have a right to breach patient confidentiality is if clients pose an imminent threat to either themselves or others. Duty to warn gives counselors and therapists the right to breach confidentiality if a client poses a risk to another person.
Some of the benefits of psychotherapy:
The cultivation of greater self-awareness

Relief from the symptoms of anxiety, depression and other psychological conditions

Develop better coping strategies

Foster greater capacity for intimacy in relationships

Release from the past

Less fear and anxiety

Greater self-acceptance

Movement toward health and happiness
Psychotherapy can help you use your life's challenges to grow as an individual, couple or family and to manage your life more effectively by increasing your self-knowledge while empowering you to make positive changes in your life.

Coaching clients typically want to focus on improving life fulfillment and satisfaction. They seek to be more mindful and aware, gain insight into their thoughts, feelings and behaviors or change certain life patterns. Often, clients need some help setting and achieving goals, prioritizing, overcoming obstacles and letting go of fear. Common areas clients seek to focus on include: self-esteem, relationships, assertiveness, health & wellness, career, time management, anger management, stress management, grief, or concerns related to aging or sexuality. This work generally leads to deeper, more satisfying connections with others. Coaching may occur 1:1 , in small groups of 15 or fewer as well as virtually. My goal is to help my clients develop their unique vision for their lives, create a path and take actionable steps to achieve their vision.
Group Psychotherapy and Group Coaching

Groups may be designed to target a specific problem or may focus more generally on improving social skills, helping people deal with a range of issues such as grief/loss, anger, loneliness and low self-esteem. Joining a group of strangers may sound intimidating at first, but groups provide benefits that individual therapy and coaching may not. By seeing how other people tackle problems and make positive changes, you can discover a whole range of strategies for facing your own issues or obstacles to success.


Group psychotherapy involves a psychotherapist (and sometimes an additional facilitator) leading a group of roughly 5-8 clients who are facing similar challenges such as how to manage the symptoms of anxiety, depression or mood disorders as well as recovery from trauma. Many people attend individual therapy in addition to groups, while some participate in groups only.

Group coaching is conducted in small groups of 15 or fewer clients onsite or virtually. The focus is on personal growth and development rather than on the management of a psychiatric diagnosis. Skills training and education are the tools used to facilitate growth and enhance quality of life within the context of a warm and supportive group.

2019 Group Psychotherapy and Group Coaching Offerings

Children, tweens and teens will learn to label their emotions and identify when anger responses are appropriate and when the reactions have become destructive and harmful. Goals of anger management include:

1. Control excessive feelings of anger and aggression. Establish a suitable practice of expressing and recognizing feelings of anger.

2. Recognize existing feelings of anger, discover origins of such feelings and find alternative ways to ease, express, and resolve such feelings.

3. Come to terms with feelings of anger, this develops a higher level of tranquility through the acceptance of such emotions.

4. Practice anger management skills to be able to become more constructive throughout daily routines

Children, tweens and teens will explore and develop skills in the areas of :

1. Thinking- Feeling-Behaving connection

2. Self-esteem, positive thinking and self-talk.

3. Goal Setting and problem-solving,

4. Stress and coping,

5. Emotional and behavioral regulation

6. Effective communication

7. Ways to increase physical activity and improve nutrition to build a healthy mind and body

8. Overcoming obstacles and barriers to success

*ADHD -Let's Get Focused!

1. Improved relationships with parents, siblings, teachers, and friends (e.g., fewer arguments with brothers or sisters or being invited more ­frequently to friends' houses or parties)

2. Better schoolwork (e.g., completing class work or homework ­assignments)

3. More independence in self-care or homework (e.g., getting ready for school in the morning without supervision)

4. Improved self-esteem (e.g., increase in feeling that she can get her work done)

5. Fewer disruptive behaviors (e.g., decrease in the number of times she ­refuses to obey rules)

6. Safer behavior in the community (e.g., when crossing streets)

2019 Group Coaching Offerings

A nurturing group for mothers of young children focusing on selfcare, healthy habits, boundary setting, creating healthy rituals, mindfulness-based stress reduction and the power of a supportive community of women.

*Women's Empowerment Small Groups

Examples: Mothers of Middles, Mothers of Teens, Empty Nesters, Women Caregivers of Aging Parents, Young Professional Women, Creating New Life After Loss, Live Your Best Life, Special Topics

Middle school girls will learn to navigate life challenges with a cool head and a warm heart. Special topics include but not limited to communication skills, assertiveness training, social media management, healthy relationships, emotion regulation and self-care.

Courage meets compassion in this group dedicated to high school girls. This group is empowerment focused and will explore challenges teens face at home and school. Topics explored include stress management tools, self-care, goal setting, creating vision and purpose, moving toward independence, social media management strategies, suicide prevention, mental healthcare, substance use/abuse, sexuality, personal safety, relationship building and boundary setting. Special guest speakers will periodically join the group to offer more exposure to special topics from experts in the field.

Rising Seniors will explore topics related to the transition to college life. Skills training will be provided in the areas of time management, healthy nutrition and sleep habits, substance use/abuse, mental health and suicide, sexual health/sexual assault, personal safety, boundary setting, communication skills, relationship building/networking and goal setting. Mindfulness based stress reduction will be incorporated into every topic. Groups will be single sex with offerings for both male and female college bound rising Seniors.

Geared for young adults ages 18-25 who are making the transition to independent living, launching from school into the workforce or graduate studies. Focus will be on independent living skills, emotional and physical self-care, stress management, goal setting, communication skills, interviewing, professional conduct, assertiveness, community engagement and personal development including hobbies, recreation, spiritual and social. Personal responsibility, ethics and accountability will be a cornerstone of this group.

Create Your Own Group, Seminar or Retreat:

Contact Senah to discuss how you may create a group, workshop, retreat, corporate off-site or lecture. Senah offers private consulting and will create a tailor-made program just for you.

Work with Senah:

Set up your free 30 minute consult to discuss your specific needs and explore Senah's current offerings.

1 Buffalo Ave. Suite 3303

980-292-0521

0

/